White blonde is totally in demand! This shade takes some courage from ladies to go paler than usual. White blonde is different from others in many ways but its most important factor is its lightness and this is what gives it a whitish look. This blonde hue is popular particularly among ladies who have a light complexion but women with other skin complexions also can rock it. It is just important to consult with you colorist before making any decision. Here are some white blonde hair colors.Platinum Blonde Hair
Platinum blonde is for women who want to look classy. Whether you secede to bleach your strands or achieve it through dying, you will need to get the formula right because it is not always achieve a color like this. If you give your strands some brown streaks like you see here, you will get a unique and mind-blowing headdress.
There are so many variations of white blonde hair colors. First of all you should decide how you want to achieve this color- highlights, ombre, balayage etc. Here the platinum blonde has been paired with purple and dark roots to form a stunning ombre pattern. It is a high maintenance look that requires lots of care.
This headdress entails adding some platinum blonde highlights to the honey brown base and then making the color brighter towards the tips to create a modern sombre pattern. Apart from the color, it is impossible not to notice the texture and dimension of the strands provided by the waves. You can rock this headdress both formally and casually.
If you want to re-create this look, consider bleaching your roots to create an ice blonde shade. The rest of strands are also lightened to give them that whitish appearance. For brunettes it will be impossible to get this shade by their own, since they may damage their strands and fail in choosing a right formula. If you have short hair, then you can copy this particular style.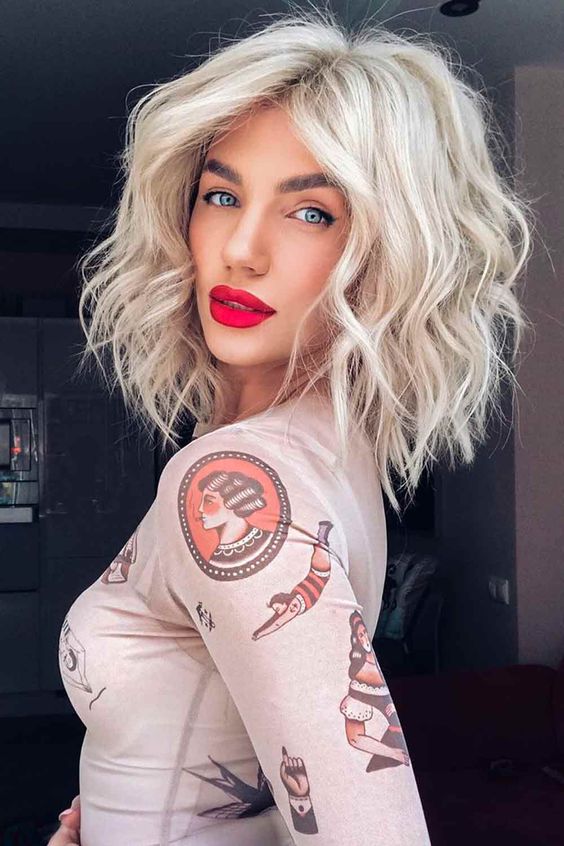 Any hairstyle achieved with a balayage technique is going to stand out. And here is the best proof of my words. To achieve this particular design your colorist will need to hand paint the bright shade on a dark brown hair in an ombre pattern to create a magnificent look. Note that the locks also have some waves that enhance the design.