The long awaited season of festivals is already here. Whether you are looking for a right hairstyle for Coachella, or you just want to wear a festival hairstyle, these styles are totally effortless. From Bohemian inspired chic looks to lovely beach waves, we have got perfect festival hairstyles for you. We have used Instagram beauty bloggers' and trendsetters' profiles as an ultimate source of inspiration. Just go on reading, to explore the most striking hairstyles for spring and summer festivals.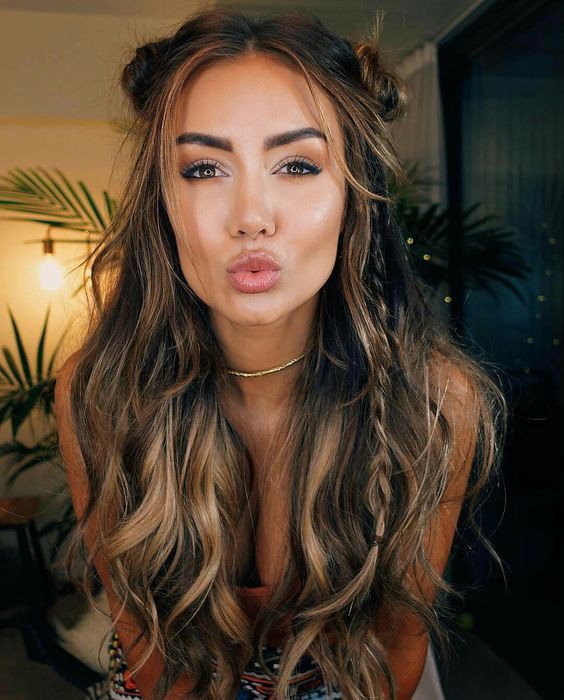 festivals' most popular hairstyle is double buns. There are numerous ways to rock double buns. You can create them with glitter roots but you can also keep it simple without any other element. The choice is up to you; the thing to know is that it is an effortless style to create at home. Playful double buns are perfect to keep your hair under control while you are dancing or having fun.
Beach waves are always being associated with summer, so you can wear them at festivals as well. To avoid too formal look, we recommend keeping it messy and disheveled. Well, in order to maintain your look several days, apply sea salt spray and dry shampoo. These products will provide with extra texture as well. You don't have to have ultra long locks to create perfect beach waves.
Festivals are just a good reason to embrace the latest trend. Lob is the hottest haircut of the season, so you can also try it. In this case you don't have to think how to style your locks without length. Beach waves are always a good option for a lob haircut. If you want to add a vibrant touch to your cut, go for bright hair colors.
Festivals we can see numerous females with flora accessories. Fashion bloggers demonstrate their cool crowns created for festivals. They are a good source of inspiration for ladies who are looking for an effortless way to update their look. You can create your own version of floral crown for a unique style.
When it comes to festival hairstyles, feel free to sport your favorite accessories and forget about minimalism. This particular style is not just about a single braid. It incorporates several baby braids that make the look even more sophisticated. A simple headband comes in handy to make the look fuller.